Make Feedback Your
Superpower
Spark the feedback culture that today's high-performing teams & organizations expect – Free for up to 30 users.
Start free
Trusted by Industry Leaders & Innovators
Results From Our Customers
In today's fast-paced world, effective teams need continuous feedback to learn, to grow, and to succeed. See what other Teamspective Customers have achieved.
6x
Increase in employee feedback and appreciation activity
45%
More employees reporting better clarity and focus
52%
More employees report higher feedback satisfaction
75%+
Pulse response rate with zero ongoing effort
Better Feedback, Better Performance
With performance, wellbeing, and team collaboration surveys & data at your fingertips, you'll have everything you need to lead effectively.
Start free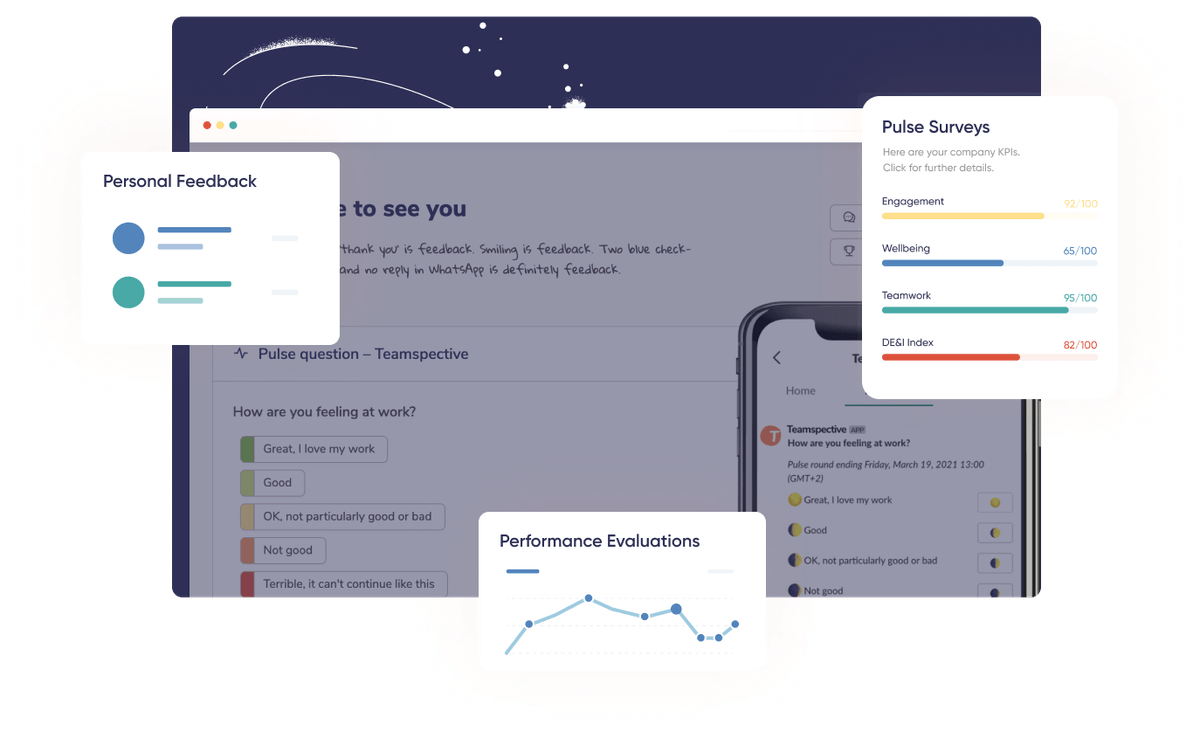 Use Teamspective in Slack & MS Teams
Create a smooth feedback experience with Slack & Teams surveys that are easy to make, and easy to take. Integrate with HRIS to cut out the admin work.
Sign in with Slack
Pulse Surveys
Listen to your people with 30-second Pulse Surveys.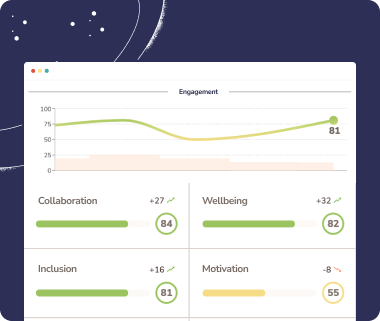 Measure What's Important
Track employee engagement, wellbeing, team performance and DE&I themes with science-backed questions, all with minimal effort.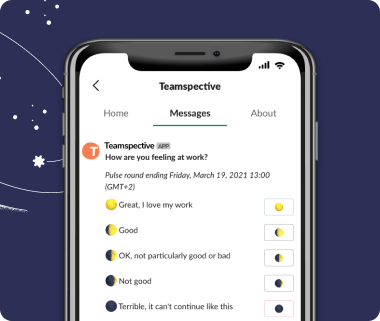 Make Answering a Breeze
Get 75%+ participation every week with Slack & Teams-based surveys – no respondent training or login required. Median response time is 30 seconds.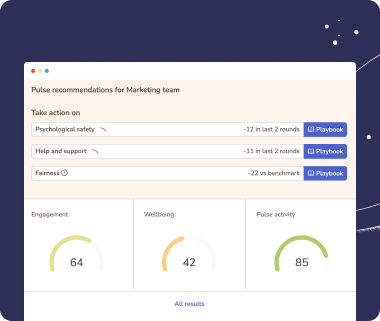 Kickstart Team & Organization Development
Get suggestions, playbooks, live chat support, and pulse highlights to lead effectively.
Learn more
"Teamspective helps our people give each other professional-level feedback independently, effectively and respectfully. Given the right chances, anyone can master their feedback skills."
Personal Feedback
Facilitate peer-to-peer, peer-to-manager, and customer feedback, along with self-reflections and whistleblowing.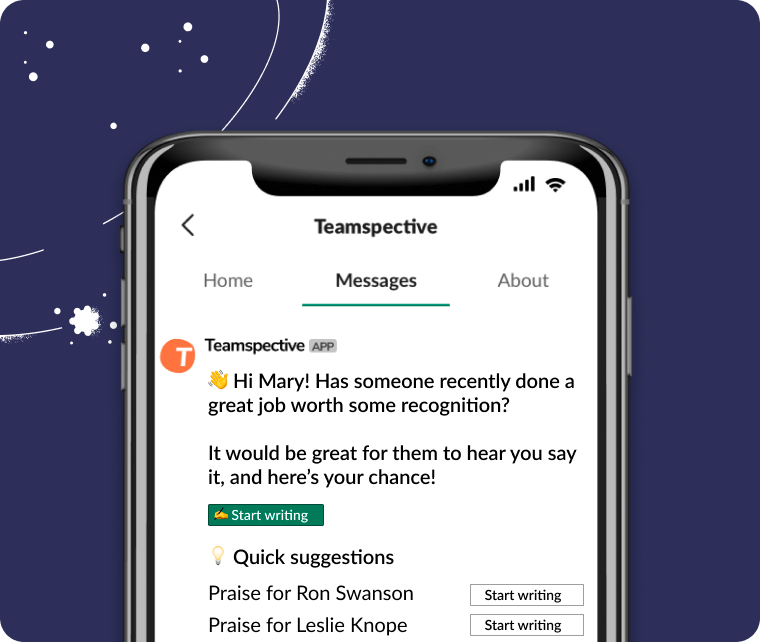 Get 6x more personal feedback
Skip the time-consuming, yearly 360 reviews – Trigger more feedback discussions with automated, AI-powered reminders.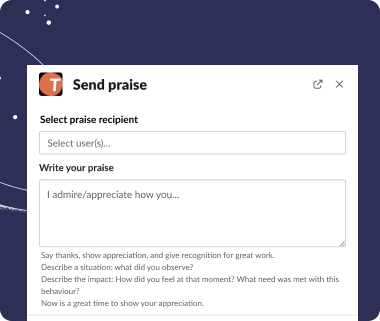 Develop Feedback Skills at Scale
Get science-backed guidelines that help you share meaningful feedback, praise, and redirection.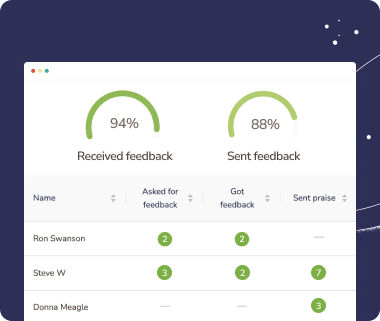 Strengthen Feedback Culture
Reward active employees and normalize talking about feedback. Continue feedback discussions 1-1, with a coach, or in a team feedback review..
Learn more
More Teamspective Solutions
Unlock new insights, improve performance management and automate your workflows.
Performance Evaluations
Collect accurate and bias-free data around-the-year for better employee reviews.
Organizational network analysis
Reveal the connections, silos, bottlenecks and key individuals that make up your organization.
HRIS Integrations
Cut out the admin work & enrich your data with key integrations to Workday, Personio, BambooHR, HiBob, and more HR systems.
Book a Demo