Organizational Network Analysis Solution
See How Your Organization Really Works
Reveal the connections, silos, bottlenecks and key individuals that make up your organization. Monitor and optimize impacts of restructuring and mergers.
Talk to sales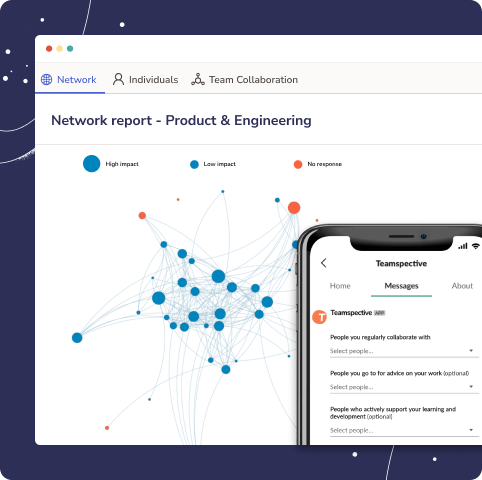 Trusted by Industry Leaders & Innovators
Know Your Organization on a Deeper Level
Get detailed Organizational Network Analysis (ONA) to understand employee demand & workload, influence, and impact across the organization.
Discover the Dynamic Teams
Find out how your employees actually work together with quick network surveys in Slack & Teams.
Identify & Engage Key Employees
ONA helps you discover, engage and commit the most impactful employees, regardless of their formal role.
Resolve Silos & Bottlenecks
Be proactive about burnout and attrition risks, and optimize information flows between silos to make the organization run smoother.
How it Works
Discover Teamwork In Motion
Book a Call with Us
Get started in an hour – we help you set up, prepare communication and schedule the required actions. You have questions about ONA? We have the answers.
Activate Employees
Work with Teamspective experts to motivate employee participation in ONA surveys. Achieve higher response rates with auto-reminders and ongoing notifications.
Receive Executive-Level Reporting
Get the most prevalent & actionable insights and recommendations, presented by Teamspective's experts for your leadership team.
Deep Dive into the Results
Get access to filtered and clickable data sets you need to take actions and lead.
Implement & Follow Up
Repeat ONA after implementing changes to check in on the progress your organization has made.
Use Responses to Kickstart Feedback
Automatically activate feedback discussions between employees based on the ONA results.
"Teamspective helps our people give each other professional-level feedback independently, effectively and respectfully. Given the right chances, anyone can master their feedback skills."