Pulse Survey Solution
your people
Smart Pulse Surveys that measure what matters. Built to be superbly easy, directly in Slack or MS Teams for high response rates and always fresh data.
Try it for free
Trusted by Industry Leaders & Innovators
"We're super happy that we switched our pulse questionnaire to Teamspective. Their user experience is fantastic for everyone: admins, team leads and employees."
Stay on the Pulse of your Organization
Best in-Slack Usability
Answering takes 30 seconds directly in Slack or MS Teams. Interactive survey design yields exceptional response rates with zero maintenance effort from the HR team.
Deep Insights and Automatic Scheduling
Our unique survey structure tracks the most crucial metrics for teamwork and leadership, asking the most important and fast-changing metrics most frequently. It's also customizable.
Automated Reports for Leadership & Each Team
Advanced reporting helps you understand organization-wide and team-specific issues, monitor trends over time and ensure sustainable improvement. Teams get their own results and can take initiative, too.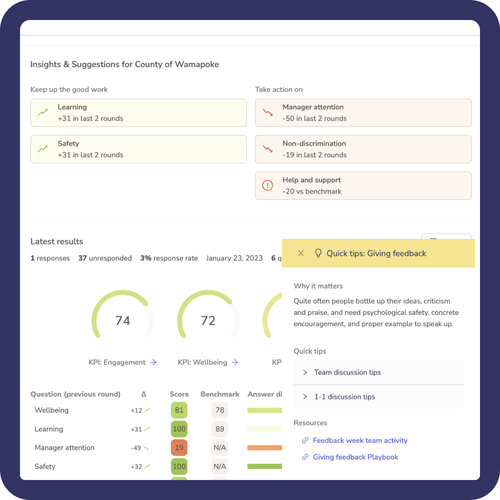 Actionable, Timely Tips & Guidance
Our in-app tips and playbooks make it easy for leaders to take action towards both big and small improvements.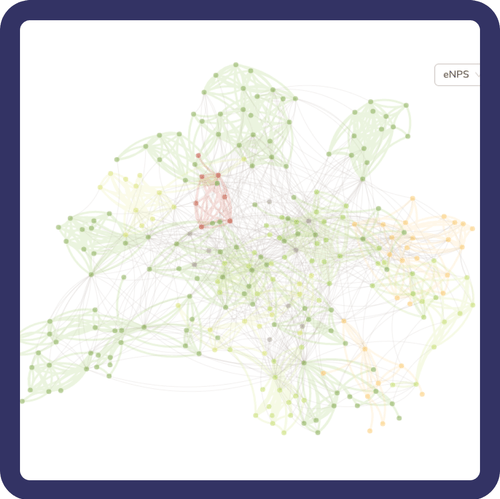 Combine with Teamspective Network Analysis
Overlay engagement and wellbeing data with Organizational Network Analysis to see unique pain points and focus areas for each part of your organization.
See our Pulse solution in practice in the video.