Pulse Survey Solution
Improve Employee Experience & Wellbeing in Real-Time
Listen to your people with 30-second Pulse Surveys, designed for more responses and richer feedback.
Start free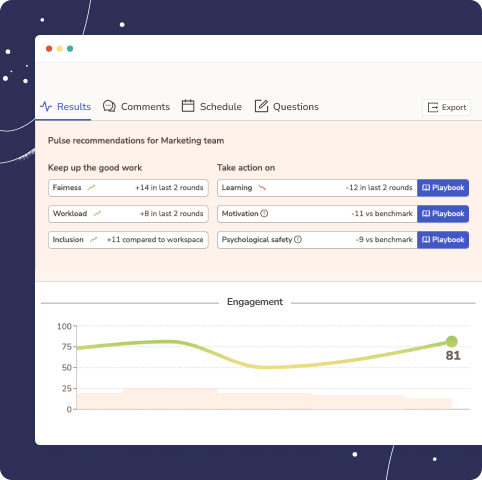 Trusted by Industry Leaders & Innovators
Help Leaders Stay on the Pulse
Our data shows that 83% of teams have unique challenges that are left unreported and unsolved at scale – That's where Teamspective Pulse comes in.
Measure What's Important
Track employee engagement, wellbeing, team performance and DE&I themes with science-backed questions, all with minimal effort
Make Answering a Breeze
Get 75%+ participation every week with Slack & Teams-based surveys – no respondent training or login required
Develop Teams & Organization
Get suggestions, playbooks, live chat support, and pulse highlights to lead effectively
How it Works
Unlock People Insights for Effective Leadership
Create a Free Workspace
Getting started is easy – just sign up, invite employees, and integrate to Slack or Teams for easy onboarding & user management.
Launch 30-Second Pulse Surveys
Choose from our library of science-backed questions or complement with your own, then let automatic scheduling take care of the rest.
Watch the Responses Roll In
Achieve higher response rates with auto-reminders and ongoing notifications.
Identify Issues & Take Action
With Highlight Reports and Pulse Playbooks, you'll get step-by-step advice to help tackle your specific team & organizational challenges.
Make Listening a Habit
Get new insights as often as you need, monitor progress and react quickly.
"Teamspective lowers people's threshold to talk about stress and other factors in wellbeing. Just having this tool helps us put more focus on how to improve things, and the pulse results show us what to talk about."
Full list of Features
Using Teamspective is free for up to 30 people per workspace.
Microsoft Teams integration
Anonymous management feedback and discussion ("Whistleblower" solution)
Send personal feedback requests to colleagues, customers, and anyone else
Automate feedback collection with AI
Provide thoughtful feedback with our guided process, and develop feedback skills
Use ready-made feedback topics, and add personal and company custom topics
Feedback activity measures & analytics
Collect feedback for third person (e.g. probation period feedback)
Send praise to one or multiple recipients
Share public praise in a Slack-channel
Sharing feedback to coach or manager
Comment on the feedback to say thanks or ask for more information
See your feedback on a clear timeline
Choose from a library of validated, curated, and tested questions
See benchmark values for each question
Control the pulse scheduling and choose questions
Send custom questions in pulse to whole company
Automatic scheduling, notifications and reminders
Answer pulse in browser, Slack or Teams
SMS login and reminders (e.g. for factory workers)
Anonymous answering and adding comments
Discuss comments in the team
Pulse highlight and development area reports for all teams, segments, and whole company
Live chat support for all team admins by Teamspective support team