Personal Feedback Solution
Fuel Personal Development and Increase Engagement
Build a healthy feedback culture. Grant every employee and manager the opportunity to get – and to give – meaningful 360 feedback, year-round.
Start free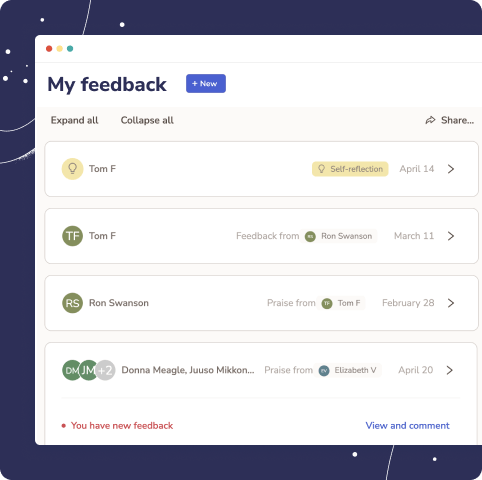 Trusted by Industry Leaders & Innovators
Get Your People Talking to Each Other
2x your employees' feedback satisfaction by showing appreciation, celebrating wins, sharing ideas, and suggesting improvements in a psychologically safe manner.
Get 6x more personal feedback
Skip the time-consuming, yearly 360 reviews – Trigger more feedback discussions with automated, AI-powered reminders.
Develop Feedback Skills at Scale
Get science-backed guidelines that help you share meaningful feedback, praise, and redirection.
Strengthen Feedback Culture
Reward active employees and normalize talking about feedback. Continue feedback discussions 1-1, with a coach, or in a team feedback review.
How it Works
Foster a Collaborative & Rewarding Feedback Process
Create a Free Workspace
Getting started is easy – just sign up, invite employees, and integrate to Slack or Teams for easy onboarding & user management.
Collect Feedback & Send Praise
Use purpose-built feedback tools and templates to boost employee development, build trust between colleagues, and culminate a sense of appreciation.
Motivate More Feedback with AI
Achieve higher feedback activity with automated reminders and ongoing notifications, based on preferred topics and work relationships.
Review 1-1 or with Your Team
Share feedback easily with your manager or coach. Discuss in 1-1s or with your team for the most impactful feedback experience.
Improve Feedback Skills at Scale
Learn what it takes to make the feedback discussion smooth and frictionless, with in-app guidance delivered just when you need it.
Ready, Set, Grow Together
Improve feedback discussions to enjoy higher employee engagement, psychological safety & trust between colleagues.
"Teamspective helps our people give each other professional-level feedback independently, effectively and respectfully. Given the right chances, anyone can master their feedback skills."
Full list of Features
Using Teamspective is free for up to 30 people per workspace.
Microsoft Teams integration
Anonymous management feedback and discussion ("Whistleblower" solution)
Send personal feedback requests to colleagues, customers, and anyone else
Automate feedback collection with AI
Provide thoughtful feedback with our guided process, and develop feedback skills
Use ready-made feedback topics, and add personal and company custom topics
Feedback activity measures & analytics
Collect feedback for third person (e.g. probation period feedback)
Send praise to one or multiple recipients
Share public praise in a Slack-channel
Sharing feedback to coach or manager
Comment on the feedback to say thanks or ask for more information
See your feedback on a clear timeline
Choose from a library of validated, curated, and tested questions
See benchmark values for each question
Control the pulse scheduling and choose questions
Send custom questions in pulse to whole company
Automatic scheduling, notifications and reminders
Answer pulse in browser, Slack or Teams
SMS login and reminders (e.g. for factory workers)
Anonymous answering and adding comments
Discuss comments in the team
Pulse highlight and development area reports for all teams, segments, and whole company
Live chat support for all team admins by Teamspective support team