Being a part of a scaleup company is an exciting journey with enormous opportunities and unique challenges. If your company is growing (or aiming to grow) more than 50% a year, you need to be ready to deal with constant change and the fact that many things must be re-created regularly. 
As a result, some employees start carrying a lot of responsibility for supporting others, and everyone must try to adapt their ways of working as new teams and roles emerge. Also, onboarding new employees can become chaotic as any guiding materials become outdated in just a few months. 
Organizational Network Analysis (ONA) helps you take control of the numerous challenges of dynamic change, and in this blog we will explain how.
What is Organizational Network Analysis?
The real networks within the company tend to deviate wildly from the official organizational charts. The org chart is often just managements' vision. What really matters is:
Who talks to whom on a regular basis?
Who asks for support and advice from whom?
How many people are dependent on constant support or other input from specific people? (This correlates strongly with workload issues)
How smoothly does information flow between teams, especially ones whose work needs to be aligned?
Which people play a central role in collaboration between teams or departments? (i.e. who are the connectors?)
An organizational network analysis (ONA) based on these answers yields unique insights into potential root causes of any organizational challenges. Seeing how the real organization and team dynamics evolve overtime is invaluable, especially for companies going through rapid growth (#growth_pains). For a scale-up company ONA is the opportunity to ensure new teams are well integrated into the organization and collaborate effectively, to identify and prevent silos early, and to plan future organizational changes impactfully.
How does ONA help scaleup companies?
Here are examples of 5 insights from ONA that Founders and People Leads of fast-growing companies should look into.
1. Optimize team collaboration and information flows
If your company is growing fast, there are always new faces around you. People are joining because there is more work to be done, and as a result new processes and teams have to be established. As a CEO, COO, or CPO, you may start wondering:
"Are my teams collaborating the way I'd like them to?"
For example, if a product design team was created 3 months ago, how can you be sure that it has smooth information and collaboration flows with engineering and product management teams, for instance? That's where ONA gets you covered.
With ONA, one can visualize links between teams to identify areas for improvement and support the teams that are left too detached. You can ensure that new teams fit well into the organization and existing ones are able to adapt their ways of collaborating with others.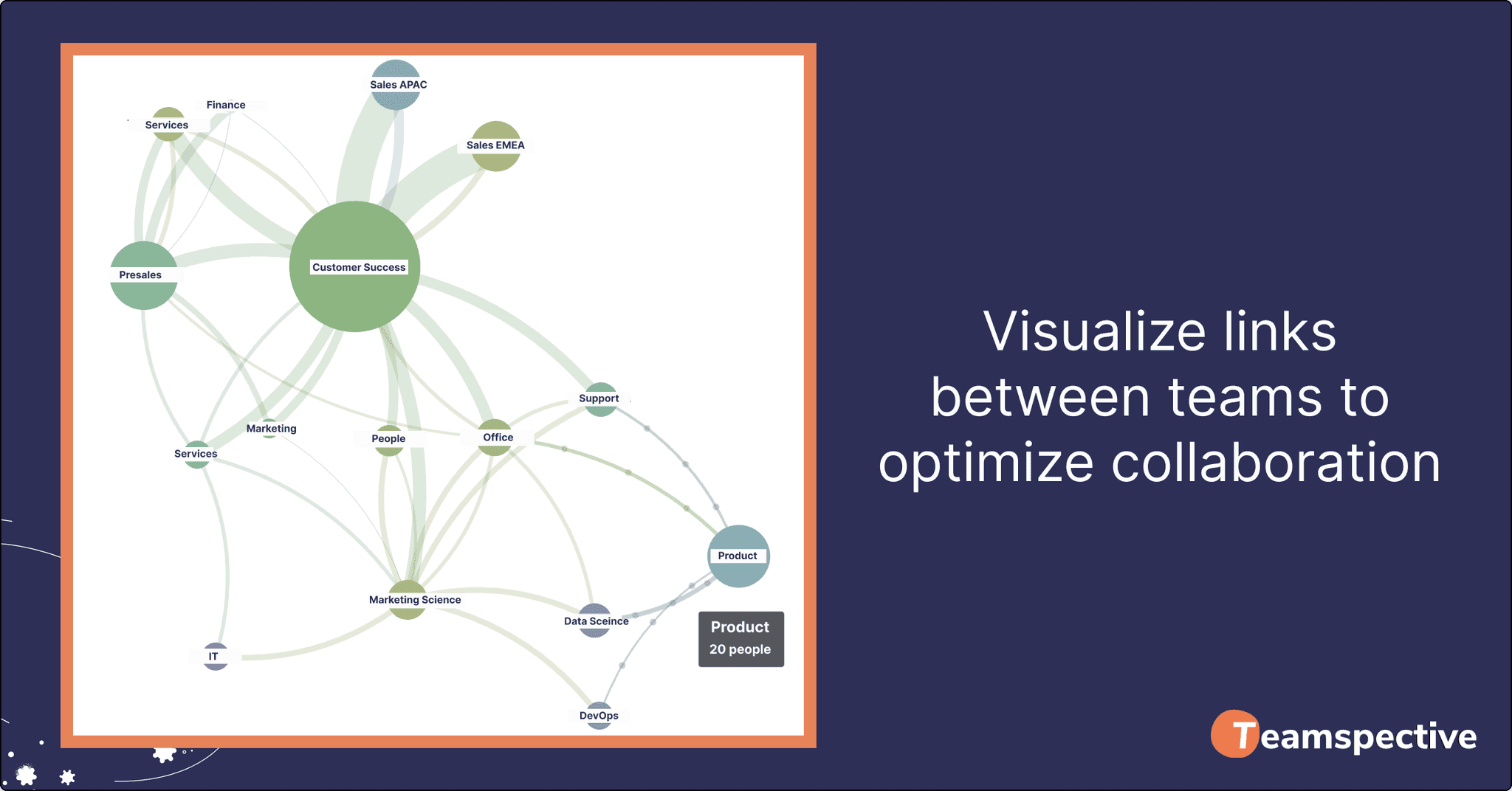 2. Ensure new employees integrate to the organization
Increasing headcount effectively requires not only optimizing collaboration between teams, but also ensuring that new hires are onboarded into company culture and receive sufficient support. The best way to know if employees are supported enough in all key areas is to collect continuous engagement and wellbeing data, monitor it systematically, and take actions before issues escalate. Learn how this can be done with Teamspective's pulse surveys.
ONA empowers you to take a step beyond team level pulse data by combining pulse survey results with the real networks within the company. Often issues such as low motivation, high workload, and unclear goals are team-specific. However, with the emerging role of cross-functional and project-based teams, it becomes less obvious whether team-level analysis is sufficient. 
With ONA, leaders can identify unique groups of people who are collaborating on a daily basis. Overlaying pulse survey data on top of these unique groups allows pinpointing "local" wellbeing issues and ensures actions are taken beyond the official team structure. 
The network view also helps you identify bottlenecks of information flow and other possible root causes for the identified challenges. Combining engagement and organizational data allows you to ensure that new teams have found their place in your company, built necessary relationships and don't rely on their managers' support too heavily in everyday work.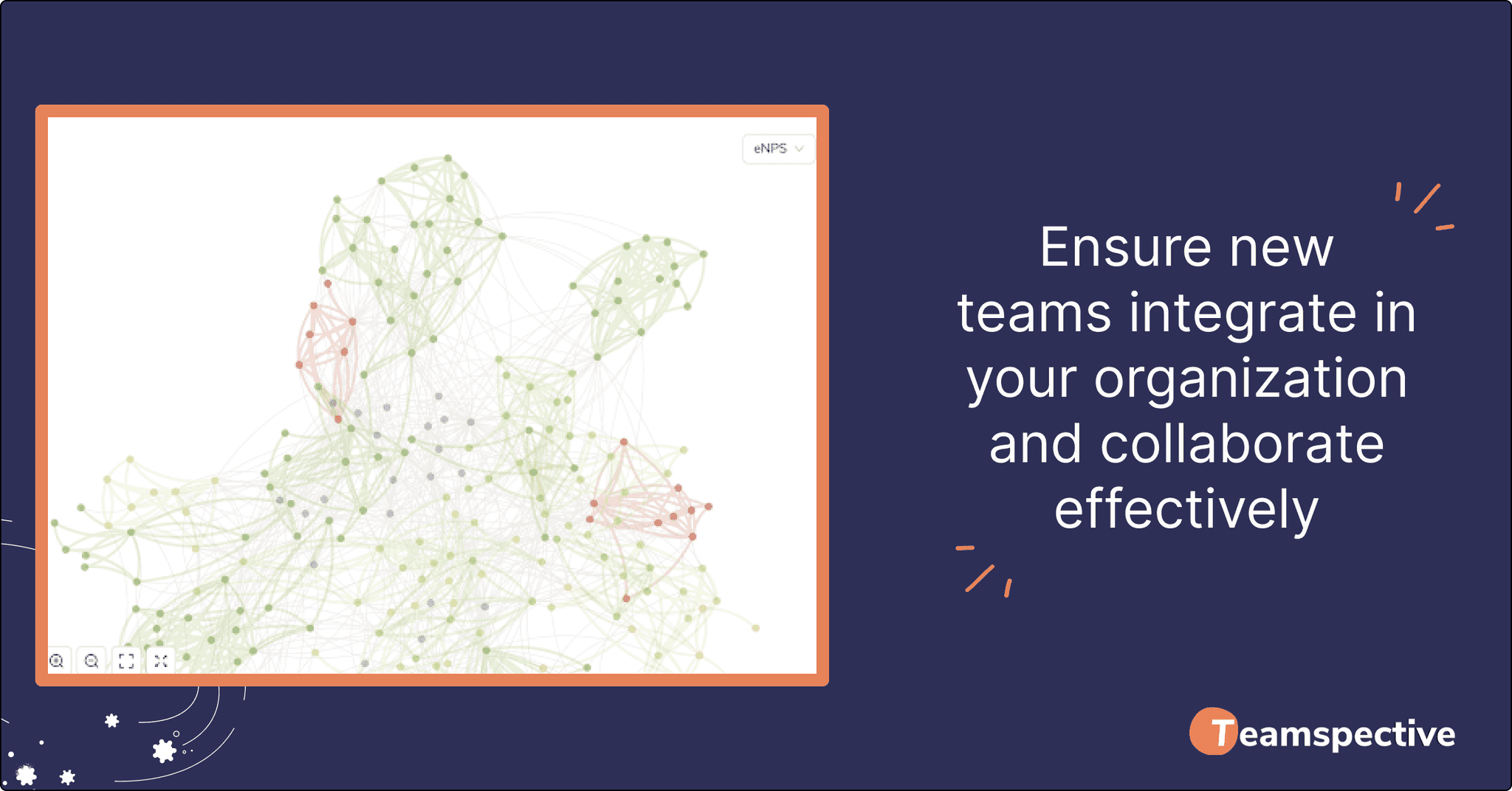 3. Identify and prevent your organizational silos early
No matter how carefully you design your company structure, there is always a risk of organizational silos being formed. Isolation can cause teams or departments to become misaligned and result in conflicting or overlapping work.
ONA allows you to keep an eye on the formation of organizational clusters and take action if effective connections between such clusters are lacking or are too dependent on a few individuals, resulting in a structural vulnerability.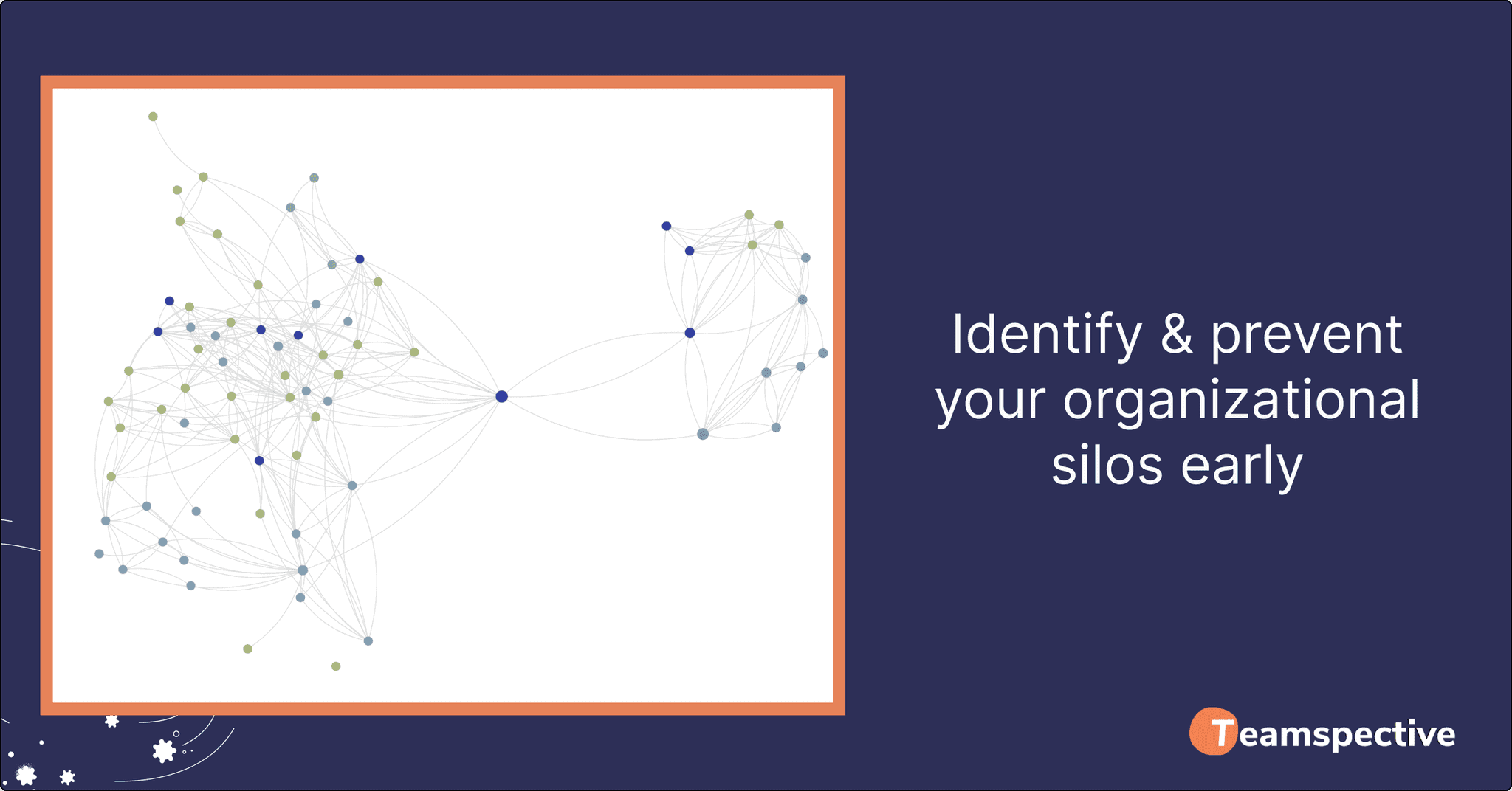 4. Identify and support key employees whose leadership and expertise guides others
Employees who have joined early can be valuable internal advocates for the company's vision and crucial in supporting new hires with their deep business understanding. However, as your company grows, these people can become bottlenecks and unable to offer instant support to everyone needing it. As a result, these individuals' workloads may become too high and the productivity of all dependent parties may suffer.
As a hypothetical example, let's takePeter who joined your company as the 8th employee and who leads the account management team. With the account management function having grown to 20+ employees, Peter still has the best overview and skillset to help teammates deal with almost any task they might get stuck with. But can he still support everyone, and in which topics is he becoming a bottleneck?
With ONA, you can identify employees under a lot of external demands and offer them needed support. Bottlenecks can be solved before they become critical in terms of productivity losses and employee dissatisfaction.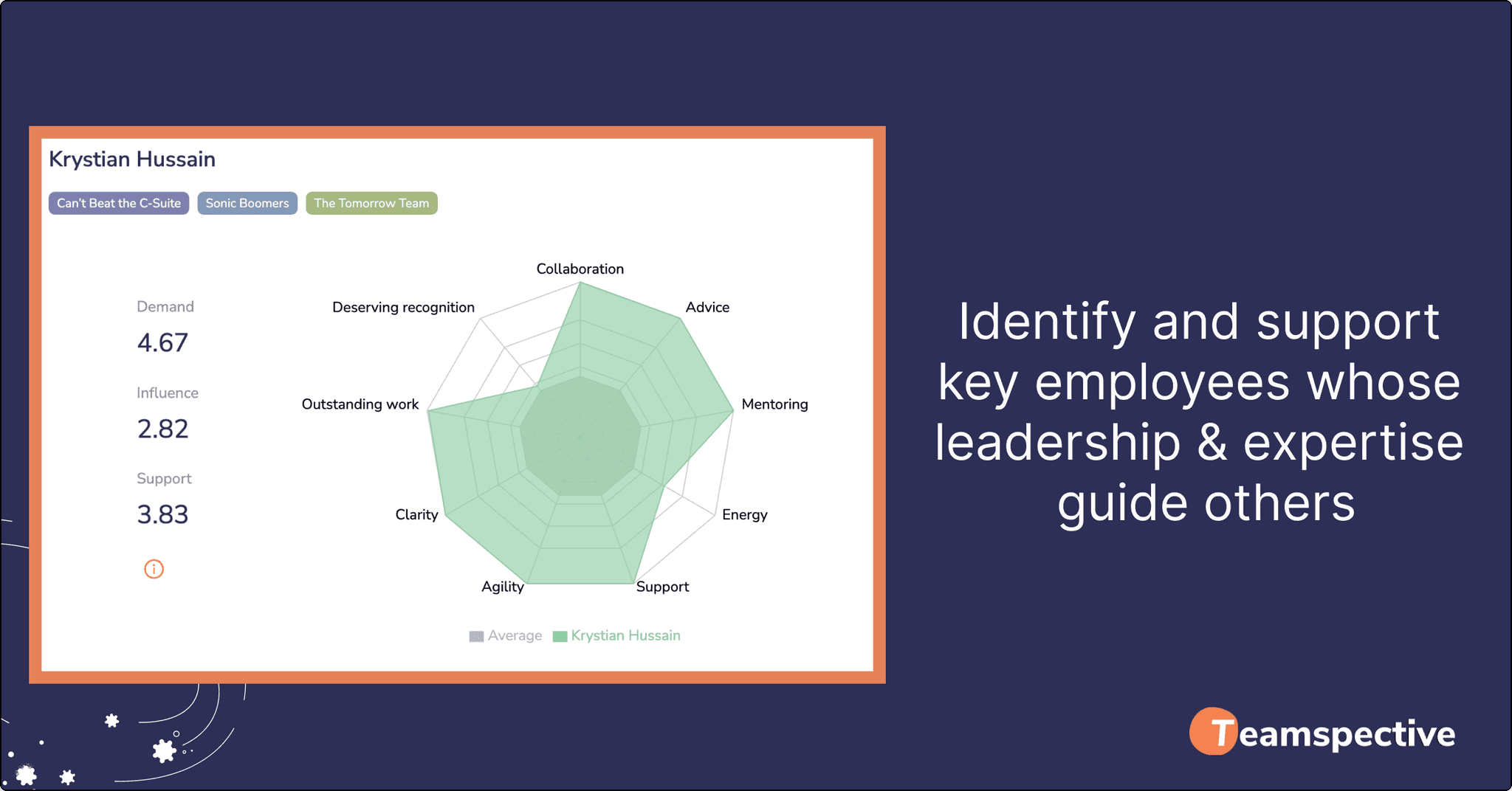 5. Understand the impacts of employee exits before things break
While it is crucial to establish a company culture that prevents high employee churn and turnover contagion, it is unavoidable that some employees eventually move on to their next challenges. 
When a key player leaves, instead of mourning the direct costs, management should be considering: "What is going to break in terms of collaboration, clarity, and support for other employees?"
With ONA you can quickly identify potential dangers and mitigate them. For example:
Which teams' collaboration will suffer as the connecting person leaves?
Which employees lose their source of clarity and advice?
Which employees lose a crucial expert they have relied on for answers?
Answers to these questions should enable you to act quickly and mitigate interruptions to workflows.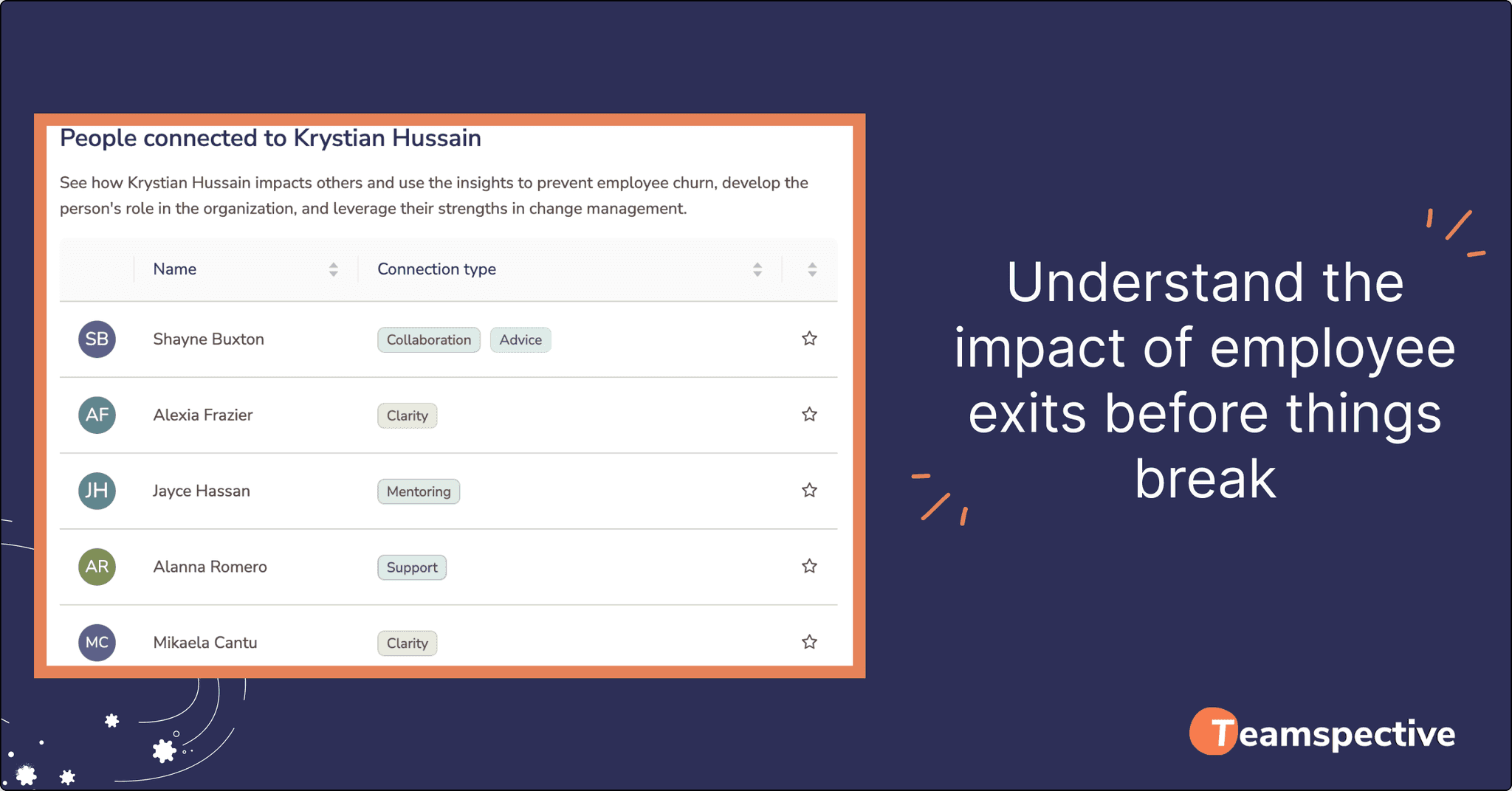 Excited about ONA?
Teamspective's experts are happy to tell you more about Organizational Network Analysis and help you identify its potential to improve your organization.** Get in touch with our people intelligence experts for a free consultation.**